When your questionnaire or RFP has been auto-completed and checked for quality, a member of the HyperComply team will send you a notification that the file is ready for review. Your team can then review the answers, approve those that are correct, and fill in any that may be missing.
To access the file, head to your "In Progress" tab by clicking on "Questionnaires" (previously titled "Evaluations").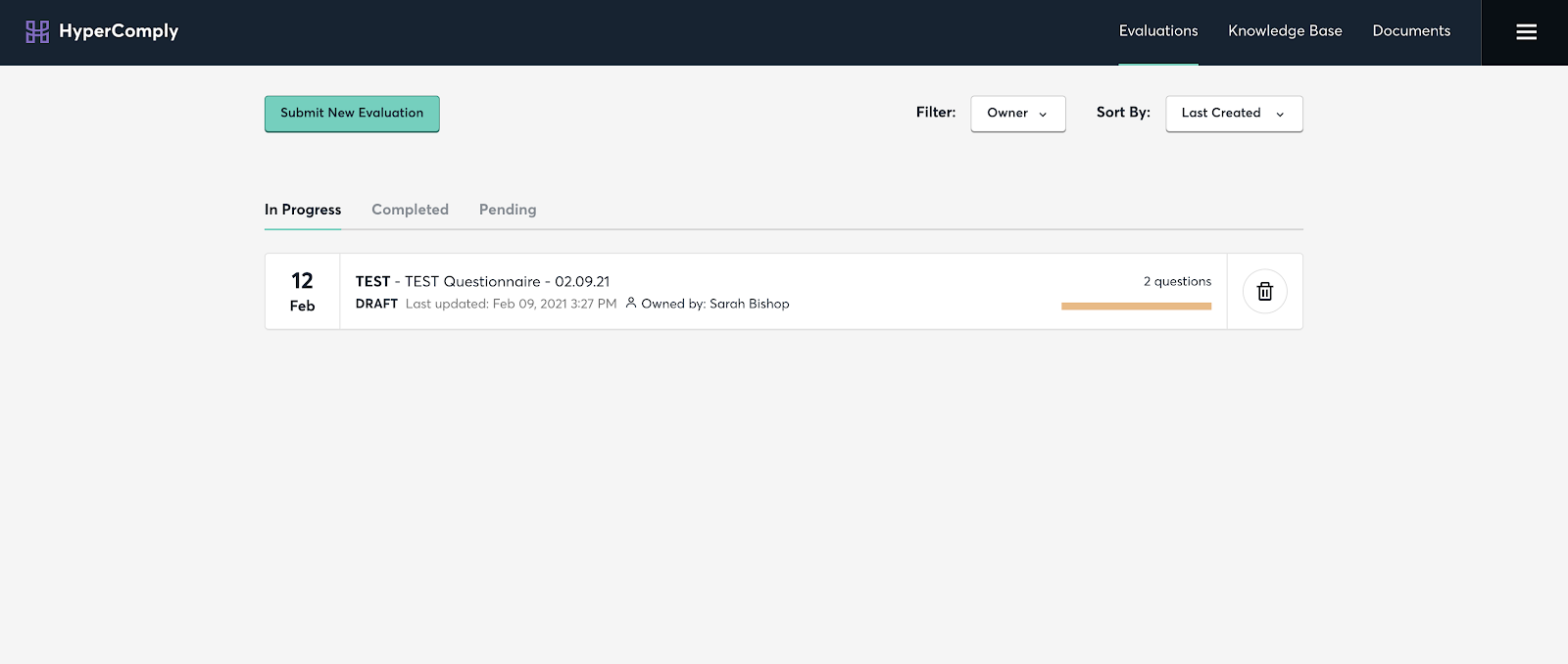 Prior to selecting the questionnaire you'd like to work on, you can view the following from this screen:
The file name (ex. TEST Questionnaire)

The customer for which you are completing the questionnaire (TEST)

The due date (Feb 12)

When the file was uploaded (02.09.21)

When the file was last updated (Feb 09, 2021 3:27 PM)

The file owner (Sarah Bishop)

The number of questions (2 questions)

The status of each answer (the progress bar is all yellow, indicating Needs Approval)
The progress bar will display the Missing Answers in red, Needs Approval in yellow, or Approved in green. Once you click into the questionnaire, this bar is located at the top of the screen. You can mouse over to see the number of questions with each status.

This screen is where you can search for, insert, and approve the answers to your file. To begin, filter for answers that have been completed by the HyperComply team by clicking the yellow portion of the progress bar. You can then mark correct answers as Approved.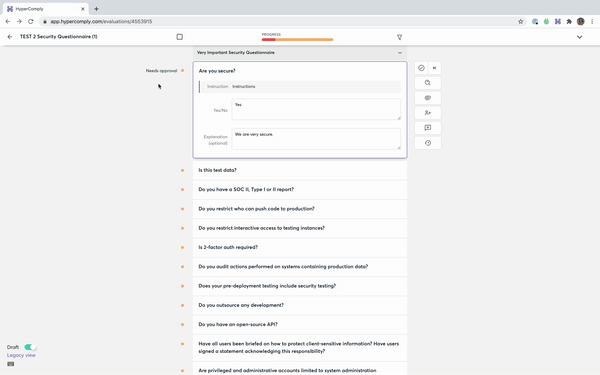 If some answers need to be edited or replaced, you have a few options!

From there, you can view potential answers from your team's documentation or previous question and answer pairings. To input an answer, mouse over the response and select the arrow pointing to the left. A "Use for answer" popup will appear, which allows you to select the answer field you'd like to populate with the selected response.
Once all of the answers look good, click the box to the right of the file name. This will highlight all of your answers and allow you to select "Approve All." You can also approve the answers one-by-one with the check mark icon.
Click the down arrow on the right side of the screen to mark the file as Complete. This moves the file from the In Progress tab to the Completed tab on the Evaluations page, and adds all of the approved answers to your Knowledge Base.
From the same drop down menu, you can also export the questionnaire. Click the Export to file button to send an email to the address associated with your account containing the completed .xlsx file.