If your team collaborates in Slack, you can now share and answer security questions from within the platform too. With this Slack integration, it's easier than ever to share specific questions with your team members and get them answered quickly. You can do this through a direct message, or post a link to the question on any channel.
Setting Up Your Slack Integration
To connect your company Slack to your HyperComply workspace, go to the Settings tab, click Integrations and add to Slack. [If the Slack integration doesn't show in your account ask your CSM to turn on the integration capabilities.]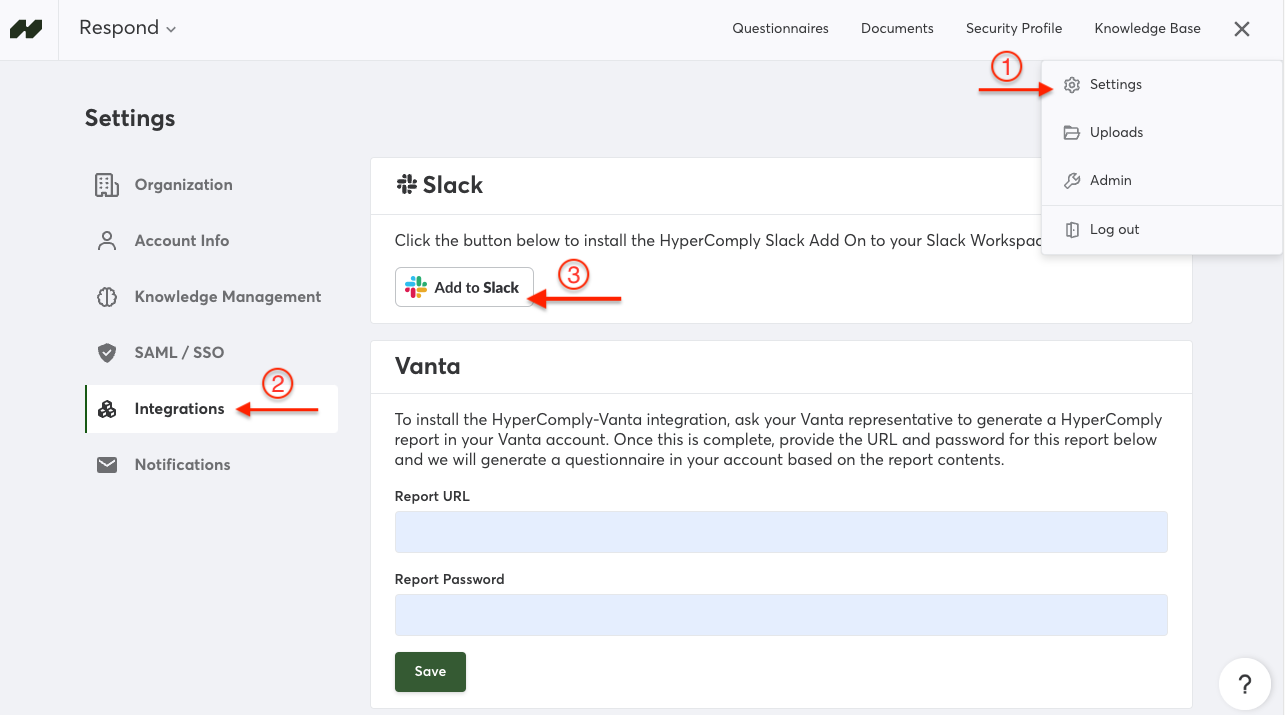 A user who is an Admin of both HyperComply and Slack needs to allow this integration

If you have multiple Slack workspaces, you can select your organization from the dropdown menu in the top right corner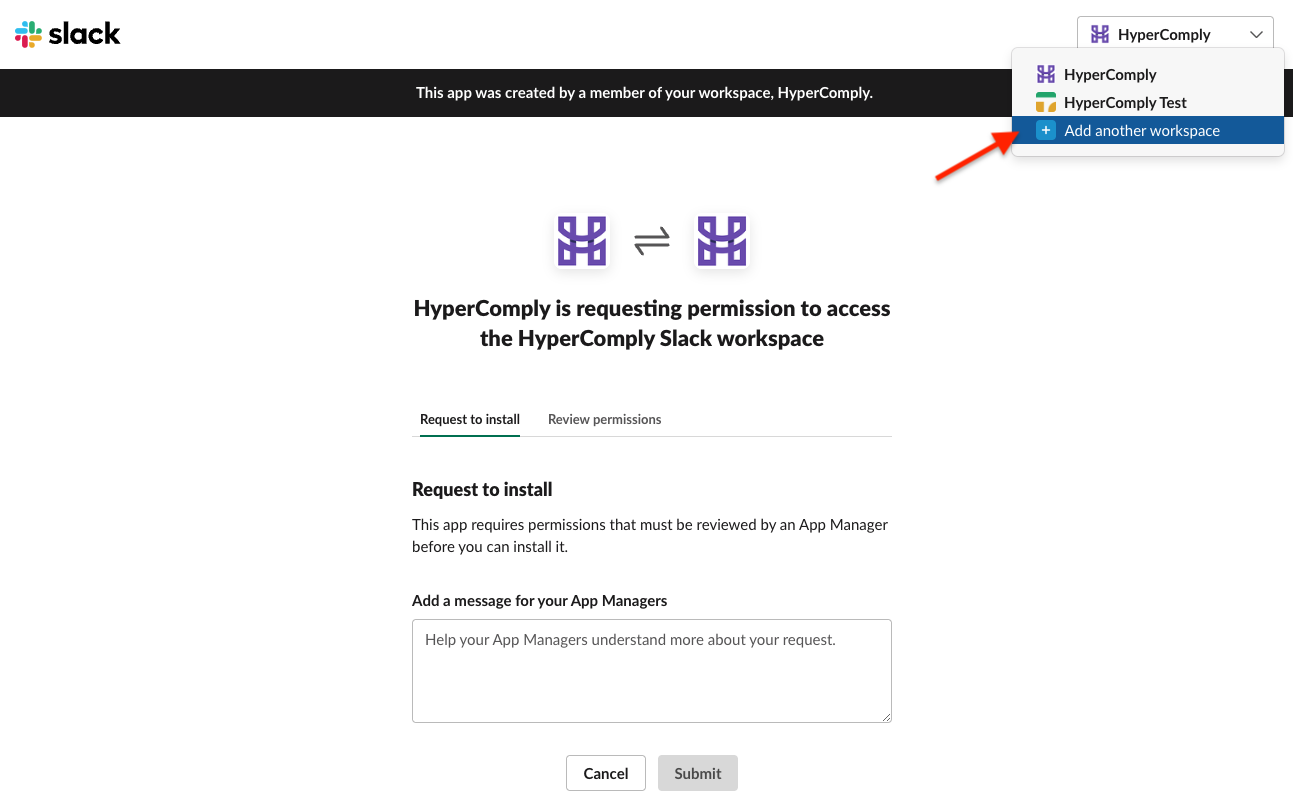 Click

Allow

, then you will automatically be brought back to HyperComply settings

Click

Sign in with Slack

to connect as a user

Each user in your HyperComply workspace is required to sign into their Slack account before they are able to answer questions sent via Slack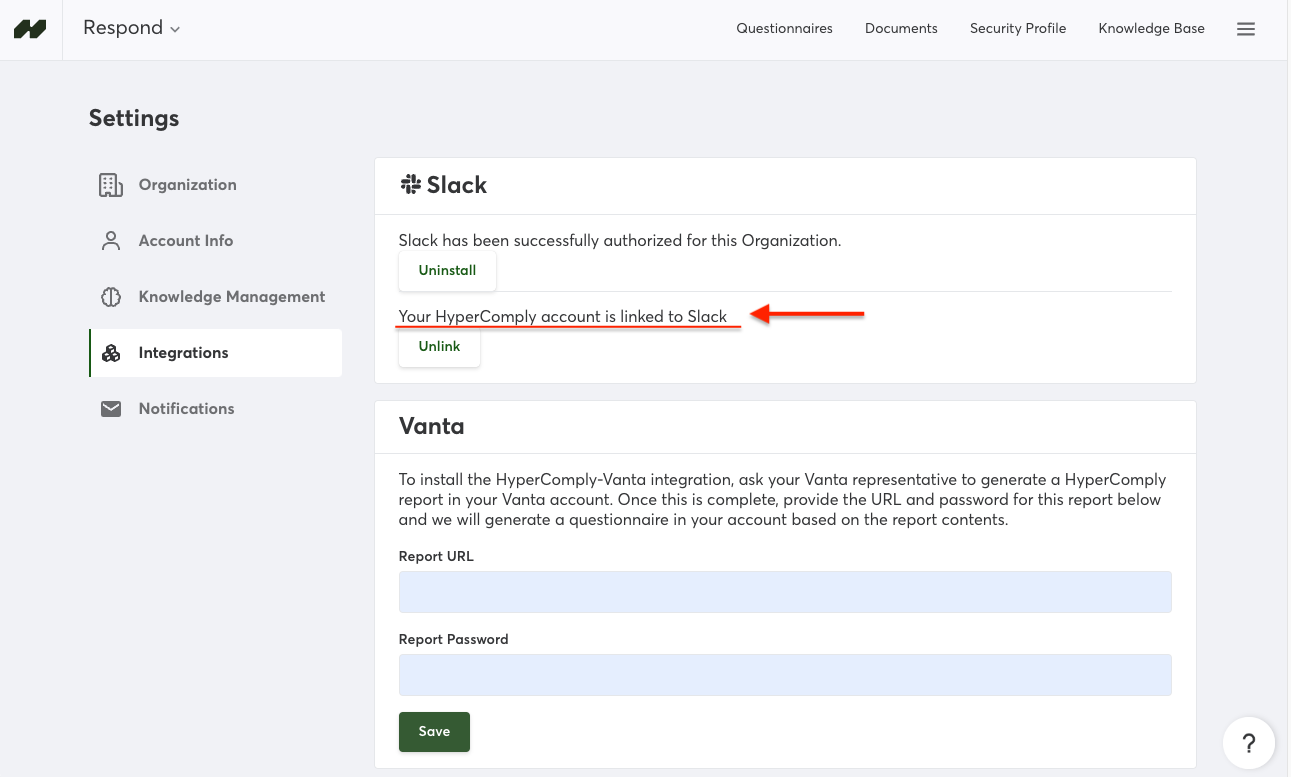 That's it! Slack has now been successfully authorized for your workspace.
Sending a Question
To send a question via Slack, first, navigate to the question and answer pairing you would like to share.
Click More in the button on the right side of the question

From here you can share the question via Slack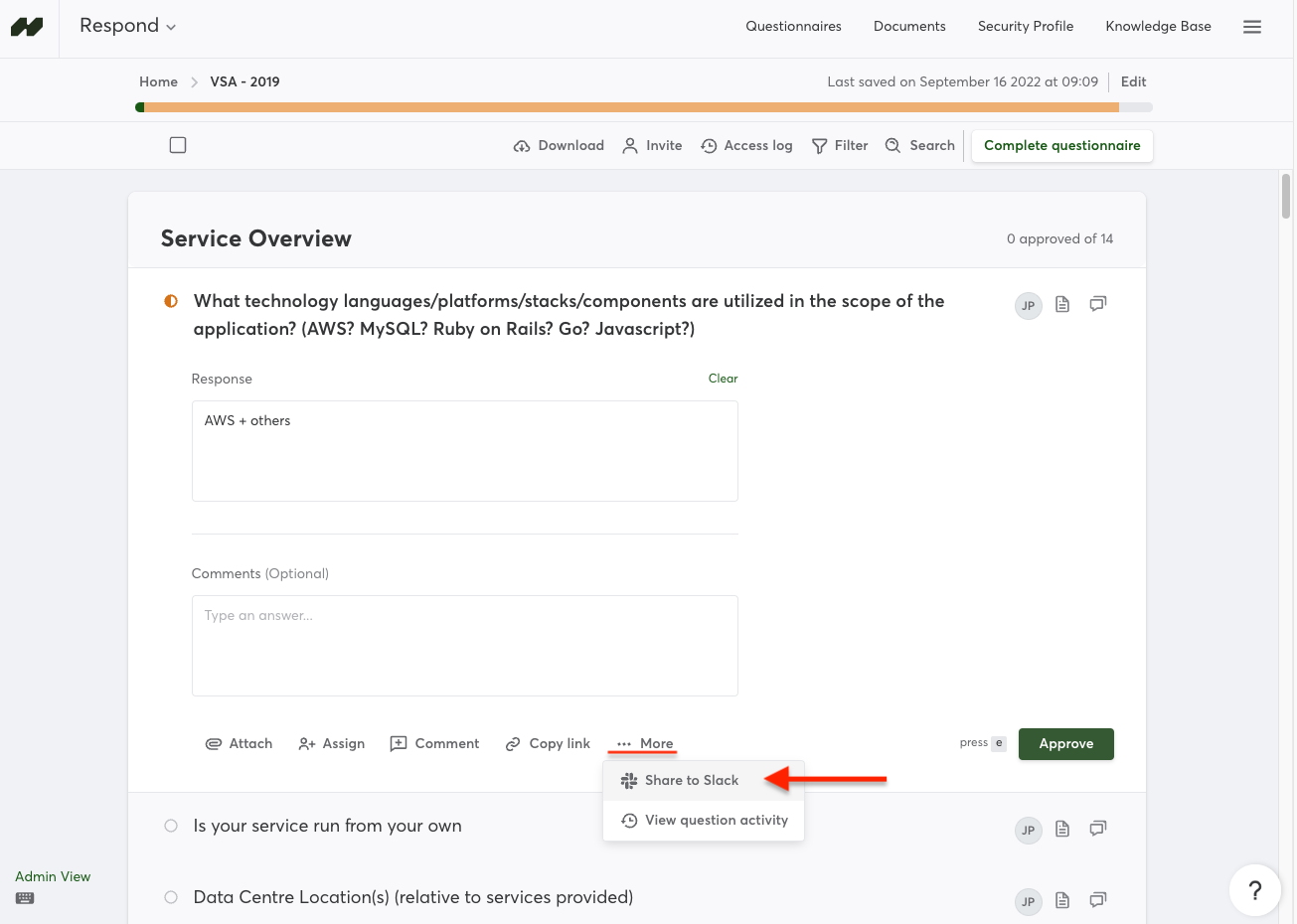 Select your team member from the dropdown list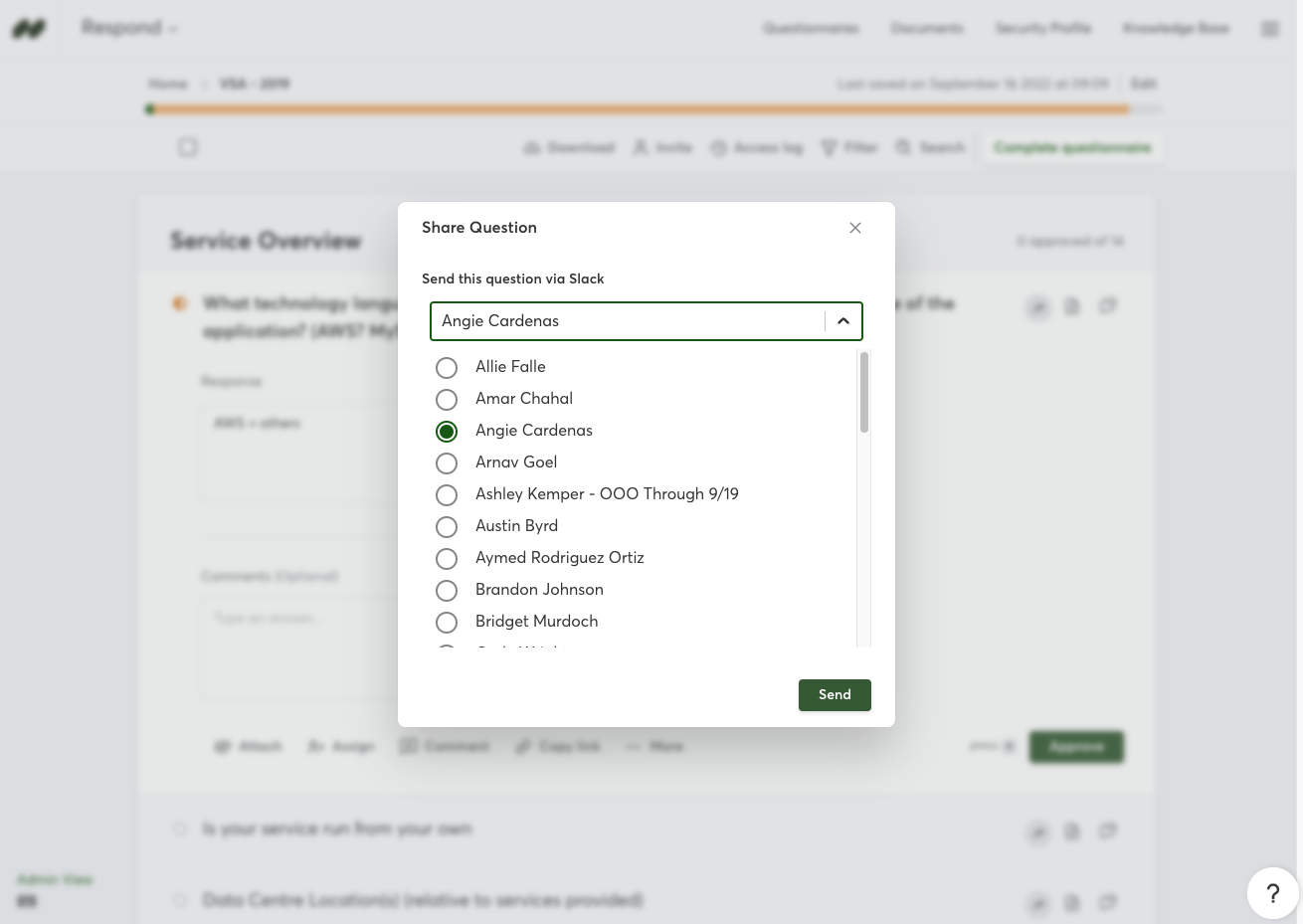 You also have the option to send multiple questions, to do this, select the checkbox to the right of the question text, select all the questions you would like to send, and then click Share to Slack in the top right corner.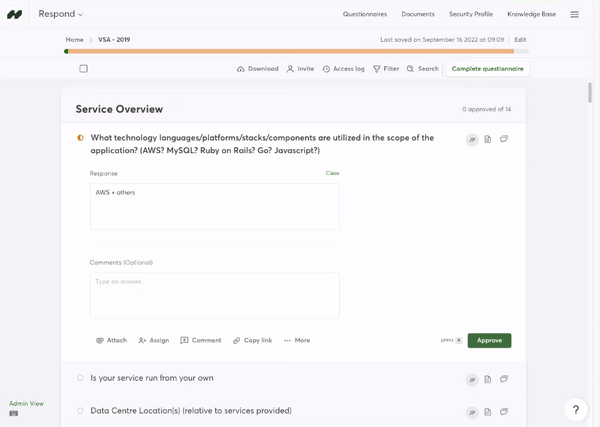 If you choose to send via Slack, the question will be sent to your team member as a DM from HyperComply.

Links can be sent to anyone at your company, but the ability to edit answers is also restricted to only users with connected accounts.
Answering a Question
Once you have been sent a question, you can add or edit an answer directly from Slack. (This option is only available for users in your workspace who have connected their Slack account to HyperComply.)
Click

Edit Answers

to complete in Slack

If you have not yet connected your Slack account to HyperComply, you will be prompted to do so in order to answer the question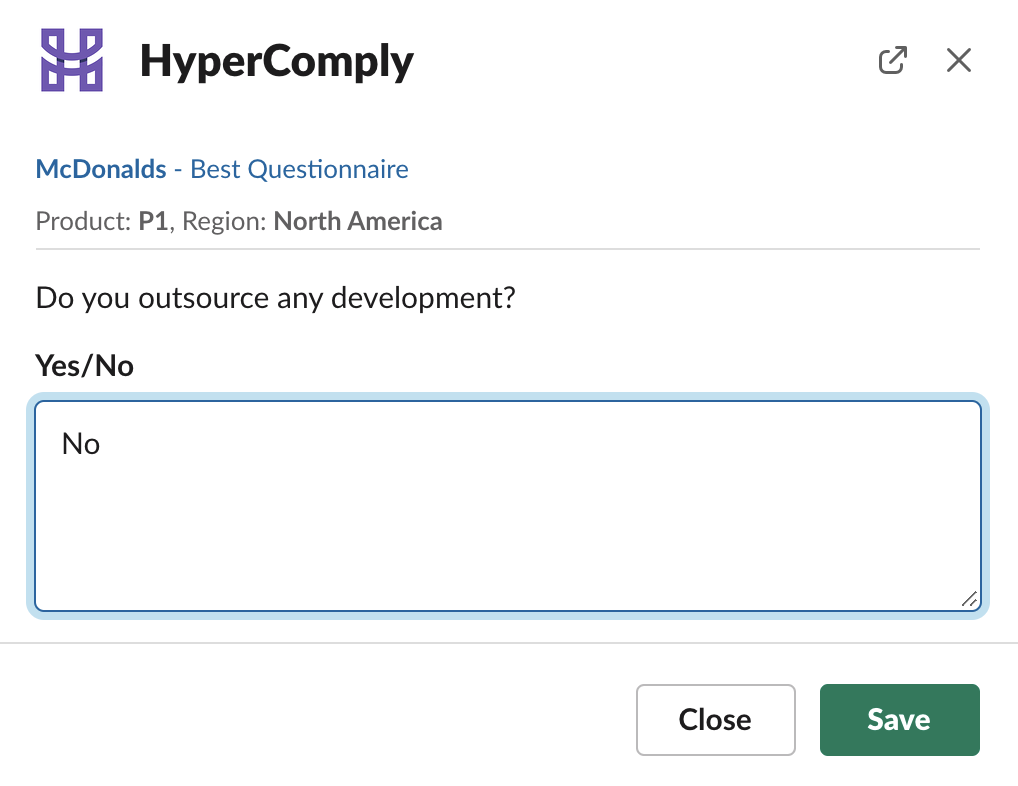 Enter your answer and click Save
Saved answers will appear in real-time. You may need to refresh the app if your browser was open before clicking Save
Click here to watch a video example.
If your organization uses Knowledge Segments, those assigned to the questionnaire will be displayed above the question on the Slack preview.
You can also share the question using the Copy Link button.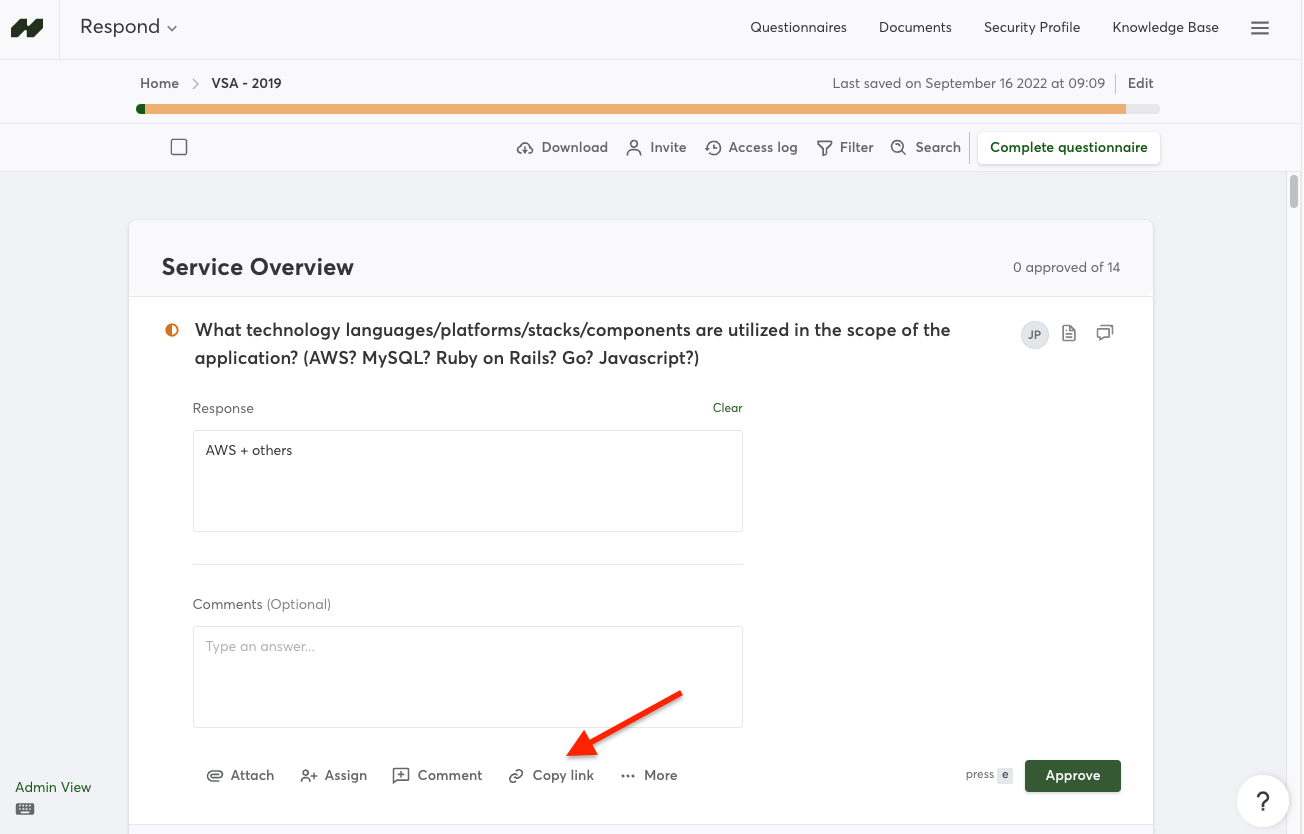 Click the link provided to open the question & answer pairing within the HyperComply web app, and add your answer there.