Automatic reviews allow you set a recurring time period or exact date for specific vendor reviews and HyperComply takes care of the rest by automatically sending those reviews out for you.
To set up automatic reviews:
1. Select the desired vendor by navigating to the Vendors page on the top right navigation bar and then selecting the name of the vendor from your list of vendors or create a new vendor.
2. On the Vendor page, hover over the "Next review" box on the top and select the pencil to edit the date and/or cadence of the next review.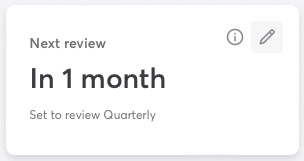 3. Enter a date for the vendor's next review and select a review cadence of Quarterly, Bi-annually, or Annually.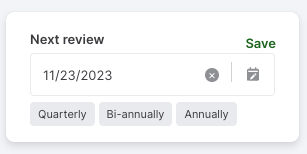 4. Select Save. HyperComply Due Diligence will now automatically send out the next review for you.